"Let your faith –the assurance of things hoped for, the conviction of that music which has yet to be heard– guide you. For Sam Russell is the light."
Sean Jewell, American Standard Time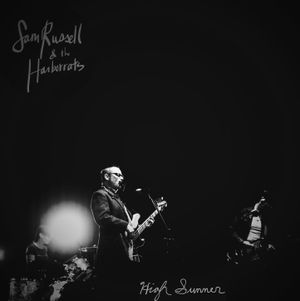 For 15 years, Sam Russell & the Harborrats have quietly transformed into a Seattle institution, fusing together Americana roots music, vintage doo-wop and classic PNW indie into a "rock n' roll cabaret" presentation to celebrate the form's majesty along with its direct honesty in equal breaths of theatrical display. Their new EP "High Summer" showcases traces of 70s soul, AM Gold and Lou Reed-inspired songcraft while marking a new era of the band exploring musical spaces for new revelations and rhythms to be found. 
Sam was born and raised in Kenosha, Wisconsin as the son of a preacher man and grew up primarily listening to Christian Rock & oldies radio, which exposed Sam to his initial influences of Roy Orbison, Motown, 60s garage-rock & Memphis soul. From 2006 to 2012, Sam released 6 albums collectively known as The Blue Moon Bible, which offered a wide stylistic range of material and an even larger rotating cast of musicians known as The Harborrats. The band most often featured Ken Nottingham on bass & vocals, Michael Spaly on electric fiddle & guitar and Allison Tulloss on keyboards and vocals as the constants in the large ensemble sound. 
In the 2012, the band was joined by permanent drummer & vocalist Aimee Zoe and pared down to a 4-piece consisting of Sam, Allison, Ken & Aimee with Allison's keyboards taking on a more prominent role. The 4-piece version of The Harborrats was nicknamed (and sometimes billed) as "The Teen Soul Explosion" and released the Live at Columbia City EP in 2014 and the Born to Hurt/Make Me Lose Control cassingle in 2016. When Allison took sabbatical from Seattle in 2020 to care for family, Aimee, Ken & Sam chose to explore the space left behind as a new direction to follow. 
Following a series of archive singles & the compilation Static Electricity: A History of the Harborrats 2006-2021 put out the past year, the three-piece line-up released the High Summer EP in June as the first to feature their new sound as tight-and-versatile trio. The EP contains the funky & sultry "Shake Off the Shame (Pts 1 & 2)" and the AM Gold throwback "You Like Me So Much More  (Than You Think You Do)." The band's first album as a trio Ocean Shores will be released on October 29.
"more a garage-soul band more than anything, but they work in lots of other stuff. (Sam) has loads of stage presence and a strong voice"
Don Slack, KEXP 90.3, Seattle

"Russell is a real rarity in any music scene: a genuine, captivating performer who's part preacher, part timeless rock and roller who always seems to generate genuine electricity on stage....He's a refreshing original in this town who's, somehow, already a star – the rest of us just haven't figured it out yet."
Jon Rooney, Nada Mucho

"It's easy to be icked out by the term "blue-eyed soul". It conjures images of middle-aged white dudes raping the soul of Sam Cooke and it's been applied to everyone from yacht-rocker Michael McDonald to the Off the Wall stylings of Justin Timberlake. But in the case of Sam Russell's Harborrats, whose past EP's have run the rootsy gamut between the Killer and the Boss, the term is apt."
Ma'chell Duma, Seattle Weekly
"Sam Russell is a performer an audience loves, and just about every musician is loath to follow."
Bart Cameron, Ball of Wax Quarterly

"the doo-wopping local boys in Sam Russell & the Harborrats defy rockabilly cliché and show promise with their unaffected take on blue-eyed soul and rock..."
Hannah Levin, The Stranger

"a Midwestern bizarro version of Springsteen's Asbury Park circa "The Wild, the Innocent and the E Street Shuffle."......Like so many artists you gravitate toward, the river runs deep in Russell"
Paddy FIneran, Kenosha News

"As a vocalist he can deliver folk songs, soul songs and rockers....As a songwriter, he seems to have no genre boundaries, and has the ability to write songs that sound like classics from the first listen."
When You Motor Away....blog